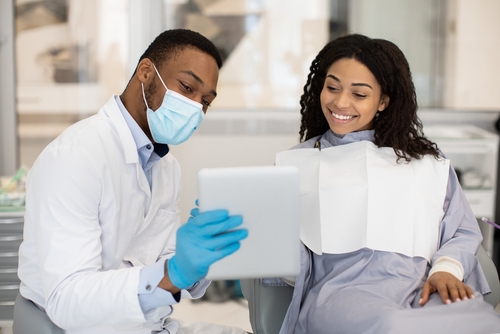 Offering a service to your patients is one thing, getting them to accept that treatment is quite another. Improving your case acceptance numbers for dental sleep medicine and sleep apnea therapy requires a thorough and honest review of how patients react to the treatment and cost. Presenting your sleep apnea therapy options is no different than presenting the pros and cons of dental implants or porcelain veneers.
1. Have Confidence in Your Product
It's up to you – the dentist, the expert – to recognize what is important to your patient, highlight the value of the right oral health treatment for them, and help them see that their life will be better for investing in this treatment. Case presentation is the same no matter what restorative or cosmetic treatment you're highlighting, including sleep apnea therapy. Deliver your message with great conviction and your case acceptance will skyrocket.
2. Know Your Product
Why should anyone invest in sleep apnea therapy? Perfect your message and deliver it accurately and completely with every new possible dental sleep medicine patient. Sleep disorders greatly affect quality of life. Left untreated, they have serious consequences and significant health risks like hypertension, mood disorders, heart disease, diabetes, and even death. That kind of information should get the attention of anyone who's on the fence about investing in this treatment.
3. Make It Clear That Treatment Is Not Optional
You can provide your patient with several options when they have an oral health problem – a tooth-colored filling or a crown to fix a cavity, a dental bridge or dental implants to replace a missing tooth, and so on. It's clear that the treatment is not optional – but you do have options. Sleep apnea is a serious, progressive disease. Your patient needs treatment and all you have to do together is determine which option is best for them and their budget.
4. Know What Motivates Your Patient
Every patient is different. Some will be motivated by money while others will be motivated by fear. Some will be concerned about a particular side effect while others will fret about a tight budget. No one really wants to get sleep apnea treatment, but they do want to get rid of the side effects of sleep apnea. Take the time to speak face-to-face with your patient, patiently and extensively, about their concerns so you can understand what motivates them – and reinforce how OSA therapy will help stop that side effect and improve their quality of life.
5. Invest in Continuing Education
The more you know about dental sleep medicine, the better your offerings at your dental practice, and more confident you will feel about what you're offering. Once you have the right amount of education and hands-on training necessary to offer OSA therapy at your practice, invest in continuing education to ensure that your offerings are always up-to-date and your technology is state-of-the-art.
Add Dental Sleep Medicine to Your Practice
Ready to learn more about dental sleep medicine and add sleep apnea treatment to your dental practice? Need help improving your case acceptance numbers? Contact Independence Dental to learn more about our tailored services to help you improve the quality dental care you deliver and improve the success of your business.