Dental Sleep Medicine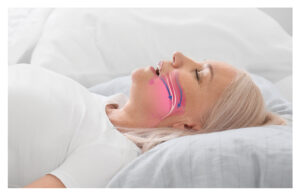 Many patients rely on their dentist to diagnose and deliver appropriate treatment for obstructive sleep apnea (OSA) and snoring. If you want to expand your dental practice and offer dental sleep medicine, or enhance the sleep apnea services you already provide, take advantage of your relationship with Independence DSO and our partnership with OSA University.
Be Prepared for OSA Treatment Side Effects
Just like the rest of dentistry, OSA treatment is not one-size-fits-all. Every patient is different and has unique needs – some will be far more unexpected than others. With significant training in dental sleep medicine, you will be equipped to solve both common and unusual patient problems.
One common side effect of sleep apnea therapy is the development of an open contact between the lower first and second molars. This issue creates a spot for food to settle and sets patients up for tooth decay and gum disease. Addressing this problem involves editing the oral appliance so that, gradually, the tooth is moves forward and the contact is closed and stays closed.
Getting the right continuing education in OSA treatment makes it possible to confidently and successfully practice dental sleep medicine, and offer oral appliance therapy to patients with sleep-disordered breathing.
The Independence DSO Partnership with OSA University
Independence DSO is affiliated with OSA University (OSAU), an online education platform that provides the convenience and savings of dental sleep medicine training to dental professionals through remote learning.
Instead of losing productive and precious office time, you can gain knowledge and understanding about all areas of sleep apnea. This education makes it possible to treat existing patients for OSA and snoring and bring in potential new patients who need help too. Through OSAU continuing education, partners with Independence DSO experience rapid dental practice growth.
Through OSAU, you receive:
Extensive coursework: Over 70 hours of dental sleep medicine course material which qualifies for continuing education.
Client resources: Priority access to forms and documentation, discounts, and physician communications to build your dental sleep practice collaboration network.
Ongoing education: Monthly live sessions with top thought leaders to help build your foundation for success.
Accelerated education: Access to a Quick Start one-on-one session to accelerate your dental sleep medicine learning curve.
Increase Case Acceptance for OSA Treatment
When you begin to offer a new form of therapy at your dental practice, it is nice to have assistance in developing your case presentation so that you also have great case acceptance numbers. Incorporating any new treatment forces you to consider how patients will react to the treatment and weigh patient reaction to treatment cost.
It's your job to have just as much confidence and conviction about your dental sleep medicine offerings as you do when recommending dental implants, a course of Invisalign, or porcelain veneers. Investing in ongoing education about obstructive sleep apnea therapy ensures that your case presentations are persuasive and clear. After all:
Sleep disorders affect quality of life.
Left untreated, sleep apnea can have serious health consequences.
Significant health risks of sleep apnea include hypertension, diabetes, mood disorders, heart disease, and even death.
Treating a sleep disorder is just as important as treating any other dental issue. Oral appliance therapy assistance through Independence DSO includes case presentation and acceptance.
Add Dental Sleep Medicine to Your Practice
Are you ready to expand your dental practice and offer dental sleep medicine to your patients? If you aren't sure where to start, or the endeavor feels too daunting to pursue on your own, align with Independence DSO. Our affiliation with OSA University, insurance billing assistance, and overall investment in your dental practice will guide you in developing this arm of your business and making it a success. Contact Independence DSO today to discuss your circumstances and learn more.