Human Resources Support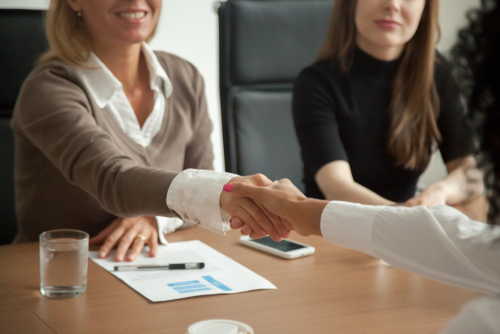 Your priority is to care for your patients and maintain their smiles and oral health, but this work can't be done without adequate support. Every dental practice needs a foundation of qualified, compassionate, talented employees, from the front desk to the back office to chairside. This kind of team is built through quality human resources support, a vital element to the success of any size dental practice, and a service offered through Independence DSO.
Hire All the Right People for Your Dental Practice
If you struggle to find the right person for every position at your practice, you may be in the same situation that many dentists find themselves in: without the time and resources to dedicate to the process. If you feel like there is a lot of turnover, or you need to let people go because they end up being the wrong candidate for the position, it's time to turn to a resource that can reinforce your goals.
The human resources support offered through Independence DSO can support you in your efforts to:
Staff the front desk: The face of your dental practice is one of the keys to your success. You need an enthusiastic, kind, welcoming voice over the phone and greeter at the door who knows just how to work with anxious patients and everyone who comes through the office.
Find a new-patient coordinator: Onboarding new patients requires plenty of paperwork and information gathering. An organized, detail-oriented hire who can follow your existing system and even find ways to improve upon it is a must.
Discover dental assistants: Dental assistants need to think like you, if not one step ahead of you, so they can help you work efficiently and effectively on every procedure and put patients at ease, whether they're in the chair for root canal therapy or porcelain veneers.
Bring in dental hygienists: There is so much more to a dental hygienist's job than cleaning teeth. These professionals are on their own with your patients and represent your practice. Their chairside manner must be flawless and genuine, so patients feel comfortable under their care.

Elevate Your Practice with the Right Staff
One staff member can make or break the success of your business. Having the right people in your practice makes a world of difference in how efficiently and effectively every day at work goes.
Think about it:
Your hygienist is incredibly gentle and kind with anxious patients… or your hygienist is impatient and pushy.
Your new-patient coordinator is all business but friendly… or your coordinator is disorderly and doesn't have the answers.
Your front desk person is always smiling and optimistic… or your greeter is grumpy and gloomy.
Your dental assistant is focused and fast… or you always have to wait for tools and supplies to be gathered.

Independence DSO facilitates the process of looking for these candidates and aids in efforts to vet potential staff members, so they align with your values, goals, and parameters. We help you get new team members settled comfortably into your practice, so they are an asset from day one.
Retain Employees with Quality Staff Training
Once you have the right people on board, proper training is key to retention. While you focus on the work you were educated to do and do best, leave the mundane parts of business management to the experts at Independence DSO. Staff training is aimed at helping you deliver better patient care through:
Education
Innovation
Strategic planning
Listening

We know one size does not fit all and we tailor training to your specific needs while ensuring that employees are happy, engaged, and deeply invested in the success of your practice. With the assistance of Independence DSO, we attract top talent and help you keep your employees longer.

Protect Your Business with Quality Human Resources Support
You have spent years building a business, and Independence DSO is focused on helping you protect it. Remove the administrative burden from yourself and spend time growing your practice. Contact Independence DSO to take the time-consuming human resources demands off your plate.