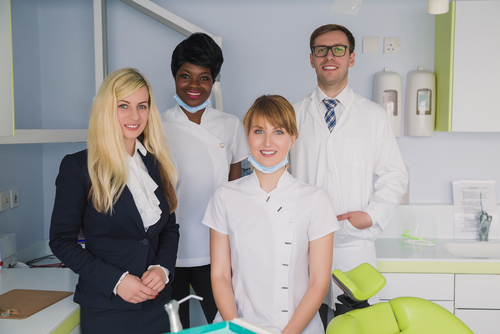 Feeling overwhelmed by everything you must take care of at your dental practice? Tired of being the one to shoulder the heavy load? When you align with a dental support organization (DSO), you get the business management support you didn't even know you'd been seeking. You remain in control of your practice but get all the help you need to manage the back end of the business.
1. Gain marketing support.
Word of mouth and insurance company referrals aren't enough to keep a dental practice in business today. Modern consumers demand modern marketing and if you want to reach more and new patients, you need social media, an improved website, search engine optimization, review generation, targeted custom campaigns, and more. Your DSO will help you make it all happen.
2. Continue to run your practice on your own terms.
You're investing in a DSO but they're also investing in you because you are already a successful dental practice. You're doing good things – but you could do even more. While you continue to operate your business as you always have without changing your branding, you won't feel any interference on the front end. But the back end can be transformed by the introduction of new technologies, bookkeeping support, and human resources support.
3. Increase case acceptance rates.
With consultative sales training for you and your staff, arranged by your DSO, you will learn the methods that make it easier to get comfortable selling to your patients. Dentistry is must-have care, but not everyone sees it that way, especially patients who have dental anxiety or are averse to high-cost treatments. Your DSO understands that the art of sales does not come naturally to dental professionals, but case presentation coaching will help you learn and master the skill to improve your practice.
4. Enjoy preferred pricing contracts.
Feel like you aren't working with the right dental lab? Feel like you could get a better rate on small equipment and supplies? DSOs have the intel on preferred pricing contracts for suppliers, products, and lab rates. When you are partnered with the right DSO, you benefit from this advantage, knowing that the suppliers and labs have already been thoroughly vetted and greenlit as worthwhile partners. Lowering your costs but maintaining quality means increased profits and earnings for you and your entire team.
Partner with Independence Dental DSO
All DSOs are not the same. At Independence Dental, we pride ourselves on helping our partners maintain autonomy for their longstanding dental practice. We do not charge management fees – you only pay for the support you want and need and all services are optional. There are no obligations to choose one over the other or be forced to use all of them.
Our name – Independence Dental DSO – says it all. We're a partnership, but you retain your independence. If you're feeling stuck in the rigamarole of your dental practice and know it's time to make a change, contact us today to learn more and find out how we can work together and help your dental practice excel.