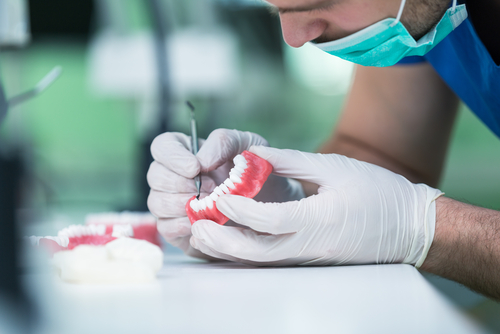 Most dental practices use more than one dental lab to create restorations, orthodontic trays, and cosmetic upgrades for their patients. Unfortunately, not every relationship with every lab is trustworthy and strong, which can leave a dentist hanging – and leave patients in the lurch too. When you work with a DSO, you can align with fully vetted dental labs with excellent reputations and dental lab rates that make sense.
The Dental Lab Restorations You Want at Reasonable Rates
As an experienced dentist who has had plenty of engagement with various dental labs, you may find it hard to rely on certain labs because the work is done too quickly or takes too long, the results are poor or incorrect, the fees are astronomical or suspiciously low. When there is no happy medium, it isn't beneficial to anyone.
A DSO, however, has carefully monitored their dental lab partners to offer your dental practice the following benefits:
Rates that aren't too good to be true
Rates that aren't too high
Rates that aren't too low

No one wants deeply discounted rates – that's a red flag. You just want a good price and preferred rates for the real deal. It's not a lot to ask to work with a dental lab you can trust and depend on to deliver clear aligners, dental crowns, porcelain veneers, dentures, mouthguards, dental implants, dental bridges, and other restorations for your patients at reasonable rates.
The Connection Between Dental Lab Rates and Materials
The materials a dental lab uses to create restorations are incredibly important. After all, you operate your dental practice under certain standards, so you of course want the right quality of porcelain for a veneer or plastic for a nightguard. The dental lab you use and the products they deliver reflect on you as the expert – and you should never settle for less than impeccable restorations for your patients.
A DSO works with multiple dental labs that have all been carefully vetted so you can:
Choose from the most appropriate places to produce authentic restorations
Be ensured that you will get ADA-approved materials
Receive genuine manufacturer parts and hardware
Get the restoration formulation you want at a cost that is right for you and your patients
Confidently ask for proof of authenticity and know that you will receive it.

It's All About Good Communication
Your DSO partner knows that dentists need many things from their dental labs, including quality control, consistency, predictable results, fast turnaround times, preferred rates, and especially good communication.
Along with the impeccable delivery of restorations, a lab is only recommended if they can be contacted at any time and deliver excellent customer service. They pick up the phone. They answer emails. They know your name and who handles your account. Getting a great price on your dental appliances and restorations is important, but being treated well and knowing that you're the priority is essential too.
Trust the DSO Experts to Guide You
Independence Dental DSO is a dental partnership organization that carefully reviews all dental labs before establishing an affiliation. Site visits have been completed, conversations with owners and managers have taken place, and only the labs that operate at the highest level are recommended to DSO partners for preferred lab rates and treatment.
Get support from the experts at Independence Dental DSO to learn more about getting the service and quality you want from your dental labs.