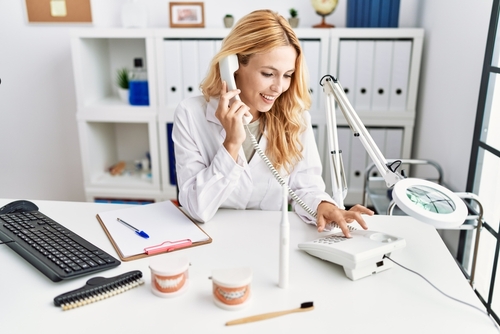 Providing adequate training is one of the biggest keys to employee retention in a dental office. Sure, your staff also need a good working environment, kind coworkers, and interesting tasks, but when they are armed with the knowledge about exactly how things work thanks to DSO training and support, they can do their very best and do it confidently.
Improve New Patient Conversions
Signing on new dental patients is a big deal. Converting someone to join your practice takes finesse, knowledge, and just the right kind of language to make it clear that your dental office is the place to be. The employees that have direct interactions with potential patients – particularly workers at the front desk and in the back office – can benefit from methods like consultative sales training.
This kind of training teaches relationship-building and active listening so your employees can understand the person's oral health problems and respond with the appropriate language to convince them why care at your dental office is the key to good oral health.
Never Worry About Compliance
Compliance training programs are critical for dental practices where elaborate and careful hygiene is non-negotiable. When employees can learn the steps to regulatory compliance in a streamlined manner, there is never a question about what must be done and how and when. Mandated online regulatory training delivered along the same system for every employee means each person gets the same information. There is little to no chance of non-compliance or false information.
You can align with your DSO to get your employees training in technology, scheduling, software, office practices, and more. Customized and digitized learning management systems simplify the process and save everyone involved both time and money. Online classes are convenient, low-cost, and do not heavily interfere with work obligations or family commitments.
Enhance the Service Menu at Your Dental Office
Everything having to do with training doesn't always involve your employees – sometimes it involves you, the dentist. Have you been thinking about adding certain services to your dental practice? It's easy to deposit an entire menu item of, say, cosmetic dentistry treatments onto your website, but carrying out these treatments is another story. If you want to boost your patient numbers and bring in new business with advanced, innovative treatments, you can take advantage of the clinical trainings organized by your DSO.
Extensive, thorough training for advanced treatments like Invisalign, sleep apnea treatments, porcelain veneers, and dental implants will enhance your reputation and motivate new patients and existing patients to say yes to a healthier, more beautiful smile.
Get Customized Training for Your Dental Office
Motivating employees isn't difficult. They want to do a good job – all you have to do is educate them and arm them with the tools they need to be successful. Invest in the people you believe in and they will believe in you. Through customized training programs, learning management systems, and compliance tools, you will minimize employee turning and develop a thriving dental practice. Contact Independence Dental to learn more about the training available for your dental practice.