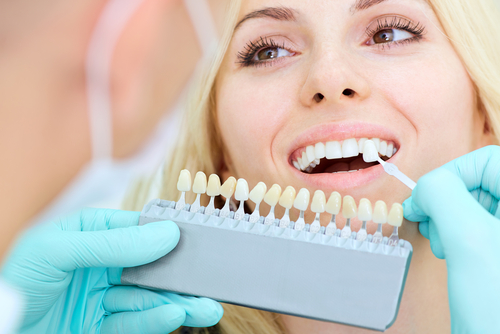 Cosmetic dentistry is an art form and so is the technique of closing cases and getting patients to say yes to a customized smile makeover. Everyone has their own reason for sitting in your office and explaining their hopes for their teeth, but not everyone will respond to your words the same way. Here are just some of the possible methods you can use to convince patients to say "yes" to cosmetic dentistry – and how to know which patients need what kind of motivation.
1. Appeal to Emotions
Let your patients know you understand they want to feel better about themselves, look younger, or be attractive to others (whichever reason applies). They may want to upgrade their smile before they get married or enter the job market.
Bottom line: Talk to patients enough to understand their motivation, then quote it back to them. When you're on the same page emotionally, closing a case citing relevant benefits is that much easier.
2. Talk to the Patients You Already Know
You may want to get new patients in the door and think cosmetic dentistry offerings are the way to go, but there isn't an untapped market to be targeted. Your best patients, in fact, come from your existing patient base. They know you're great as a general dentist, and it's time to let them know you have skills as a cosmetic dentist too.
Marketing too aggressively to any group – established or unknown patients – is one way to turn people off and make them think your practice is exclusive or expensive.
3. Use Promotional Materials
No matter how efficient your dental practice is, at some point people will have to spend time in the waiting room. It's great if you have promotional materials at the ready, from flyers to brochures, videos to QR codes. You could even frame photos of your best before-and-after photos and a list of cosmetic dentistry treatments and problems addressed for each case. If your patient membership plan includes cosmetic dentistry benefits, promote that too.
When it comes to cosmetic dentistry, it's hard to find anything more persuasive than visuals. Proof of success is the path to more success.
4. Don't Assume Anything
You may know a patient well but don't assume they're not interested in investing in a new smile or a high-end cosmetic dentistry treatment. Go into every case discussion with an open mind and zero preconceived notions – let the patient tell you what they want and how much this smile makeover means to them.
Closing cases will be that much easier when you let the patient lead the way and listen to them carefully, then deliver a menu of solutions that lets them stay in the lead and allows you to guide them.
Make a Change with Help from a DSO
It can be a challenge to make the sell on cosmetic dentistry, but training on closing cases from Independence Dental Services will give you the tools to change your success rate right away. Schedule a consultation with our DSO today.