Hear More "Yes" to Treatment with Case Presentation Coaching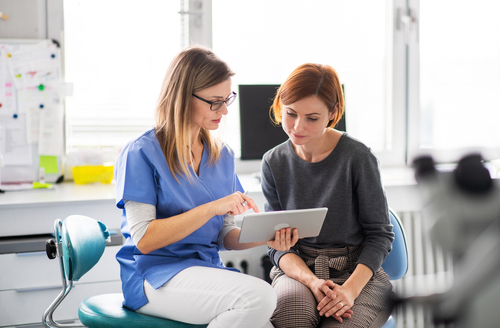 You hire employees who are qualified to do their jobs in your dental office. There is some on-the-job training, but for the most part you want your talent to hit the ground running. When it comes to retaining patients and bringing in new faces though, continuing education is priceless. Customized case presentation coaching, offered through your dental service organization, will train your employees in the skills they need to sway patients, so you all hear more yes to treatment.
Overcoming Objections to Necessary Dental Care
Some dental patients know they need help from their dentist to eliminate mouth pain and achieve excellent oral health, but that doesn't mean they're going to pursue dental care. It's up to dentists and dental teams to convince patients to prioritize the treatments that are best for their teeth and gums. Unfortunately, there are many arguments patients may put forth – or never even mention unless you bring them up first:
Dental anxiety: Your patient may not reveal that they have dental anxiety. Some people are good at hiding it and choose to simply disappear after a recommendation for dental restorations, never to be seen again. Case presentation coaching helps you transcend a person's fear, no matter the source of their anxiety, so you can reassure them of comfort measures or sedation dentistry to put them at ease.
Cost: Some patients nod with conviction and make it seem like they plan to go all in with the treatment you're recommending, then they never come back to get the dental work done. Case presentation coaching helps you deliver the costs of a procedure and – most importantly – viable payment plans that make every treatment affordable, no matter your budget.
Pain: Unless you have a unicorn in your dental office, most patients are worried about pain during a root canal, dental implants, filling, or any restorative or cosmetic dentistry treatment. Closing a case begins by letting them know what discomfort can be expected and reassuring them that during the procedure any pain will be numbed and minimized through careful comfort measures.
Time: Dental implants can take several months to complete including healing time. Other treatments take only one visit to the dentist. Case presentation coaching makes it clear that laying out a realistic timeline can help the busy professional, parent, retiree, or otherwise make time for the dental care that they need the most.

Through case presentation coaching and consultative sales training, you can help patients say yes to treatment for important, necessary, tooth-saving dental care. Learn how to overcome their objections and improve the turnaround for closing cases at your practice.
The Route to Successful Dental Case Presentation Coaching
There are several successful dental case presentation strategies that can be used almost across the board to convince patients to say yes to treatment. These include:
Highlighting the patient's current complaint
Reviewing previous dental history, especially if similar to the current complaint
Discussing family dental history
Conducting intra-oral observation
Carrying out special tests and investigations
The biggest success you will have with closing cases is making an emotional connection with the patient. At Independence DSO, we teach dental practices how to relate to the people in their chairs and what language to use to create a positive experience, appreciate the patient's needs, and deliver the right message at the right time. Contact us today for support at your dental office.