Rely on Consultative Sales Training for Closing Cases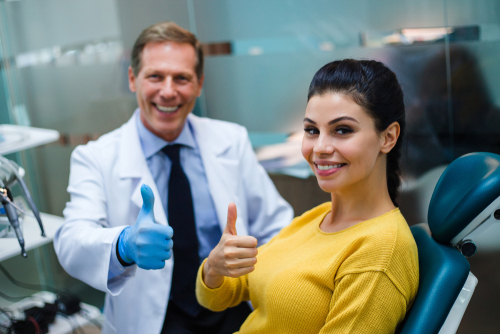 Sometimes, a dentist's job is about persuasion. You might believe you shouldn't have to convince a patient to get dental work that's for their own good, but sometimes you do. And sometimes, you want to encourage the patient who's interested in dental crowns to upgrade to porcelain veneers because it will a better investment. Every situation will vary, but what's important is closing cases so they're good for you and your patients. Make it happen with the help of consultative sales training.
Provide Care Through Persuasion
Selling is not a skill that comes naturally to all dentists. You get into your line of work because you want to fix teeth and help people develop healthy mouths and maintain beautiful smiles. Getting them there, however, can take a little convincing, especially for patients who are nervous about being at the dentist, fear pain or price, or need a lot of work done to restore their oral health.
Combining consultative sales training with the tips you've learned for closing cases can help you get the "yes" responses you need, which is good for your bottom line and your patients' oral health.
The Consultative Approach to Closing Cases
Build a relationship with your patient. Good relationships are about listening. Hear your patients out when they express their perceived needs. Discover what motivates your patient, whether that's fear, money, ego, or otherwise. You'll know what type of procedure to push for and when.
Understand their oral health problems. Logically, you understand your patients' oral health problems. If they have a cavity, they need a filling or crown. If they have stained teeth, they want to whiten them. But hear everything they mention, from appearance to self-esteem to how their job is affected. Make them feel understood in all nuances.
Ask open-ended questions. No one wants to hear a monologue at the dentist's office. Let your patients talk and then ask questions that you truly want the answers to about preferences, concerns, and hopes. Explain to patients how your dental team has the knowledge and training to deliver incredible results.
Develop solutions to challenges. Offer reassurance to patients – and options. In many cases, especially cosmetic dentistry, there is more than one way to correct a dental problem. By giving a patient choices that you can live with, you get what you want and they feel in control of what masquerades as an uncontrollable situation.

Increase Case Acceptances
It's critical for every dentist to keep in mind that closing cases is all about the patient. They will, after all, only accept your treatment plan if it makes sense to them. Your confidence, knowledge, and genuine delivery will be the difference between closing a case and losing it.
Manage needs, address questions, meet expectations, be prepared to answer questions in that moment, and – sometimes – create a sense of urgency. Getting consultative sales training across your entire team is essential to increasing case acceptances. If you want to improve your numbers of closing cases, learn more about working with Independence DSO, a dental service organization. Contact us to learn more.